Morris 36 DS Versions
The Morris 36 DS is built with three different keels as seen by the profile below. The standard (deep) draft keel (6.5 feet) weighs 3750 pounds, the shallow draft weighs 4110 pounds and the super shallow draft weighs 4410 pounds.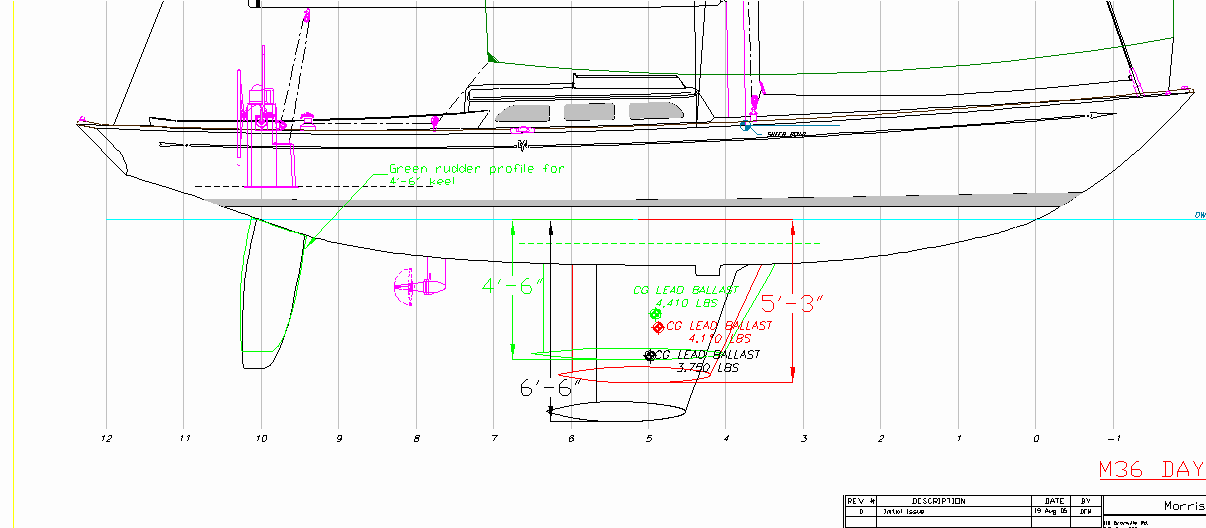 The following is a spreadsheet showing the configurations by hull numbers. LF for the rig means Leisure Furl Boom.
M36

Keel Versions

KEEL

KEEL

KEEL

RIG

LIFELINES

YACHT

HULL #:

CHOICE

WEIGHT

DRAFT

STYLE

& PULPITS

NAME

1

DEEP

3,750

6.50

STD

NO

LANEY LU

2

SHOAL

4,110

5.25

LF

NO

GNAAJWAN

3

DEEP

3,750

6.50

LF

NO

ANNIE

4

DEEP

3,750

6.50

STD

YES

PEARL

5

DEEP

3,750

6.50

STD

NO

KINGFISHER

6

SHOAL

4,110

5.25

LF

NO

LIMELIGHT

7

SHOAL

4,110

5.25

STD

NO

LEANNAN

8

SHOAL

4,110

5.25

STD

NO

GRACE

9

SHOAL

4,110

5.25

STD

YES*

ROARING WATER

10

SHOAL

4,110

5.25

STD

NO

EX. RISKY BUSINESS

11

SHOAL

4,110

5.25

LF

NO

EX. CARI ALI

12

SHOAL

4,110

5.25

STD

NO

SULTANA

14

SHOAL

4,110

5.25

STD

NO

MAGIC

15

DEEP

3,750

6.50

STD

NO

GOODWILL

16

SHOAL

4,110

5.25

LF

NO

LTD OPTIONS

17

SUPER-SHOAL

4,410

4.50

STD

NO

WINDCHASER

18

SHOAL

4,110

5.25

STD

NO

CECI

19

SHOAL

4,110

5.25

STD

NO

MOXIE

20

SHOAL

4,110

5.25

LF

NO

SEAWITCH

21

DEEP

3,750

6.50

LF

NO

ACADIA

22

SHOAL

4,110

5.25

LF

NO

MASQUERADE

23

SHOAL

4,110

5.25

STD

YES

HIGH COTTON

24

SHOAL

4,110

5.25

STD

NO

KOKOPELLI

25

SUPER-SHOAL

4,410

4.50

STD

YES

MARIETJE

26

SUPER-SHOAL

4,410

4.50

STD

NO

FERIEN

27

SHOAL

4,110

5.25

STD

NO

CAMRYN

28

SUPER-SHOAL

4,410

4.50

LF

NO

MONTANA

29

SHOAL

4,110

5.25

STD

NO

NAPTIME

30

DEEP

3,750

6.50

STD*

NO

MORNINGSTAR

31

SUPER-SHOAL

4,410

4.50

LF

NO

SAILYANNE

32

DEEP

3,750

6.50

STD

YES

PHILOVENT II

33

SUPER-SHOAL

4,410

4.50

STD

NO

IRISH UKE

34
SHOAL
4,110
5.25
STD
NO
CAHERSIVEEN
35
SHOAL
4,110
5.25
LF
NO
FLAM
36
SHOAL
4,110
5.25
STD
NO
M36
37
SHOAL
4,110
5.25
LF
YES
INGLESEA
38
SHOAL
4,110
5.25
LF
YES
ZOE MARY
39
SHOAL
4,110
5.25
LF
YES
KESTREL
40
SHOAL
4,110
5.25
LF
NO
BLUE PEARL
41
SUPER-SHOAL
4,410
4.50
LF
NO
RELIEF
42
SUPER-SHOAL
4,410
4.50
STD
YES
ADVENTURE
43
SHOAL

4,110

5.25

STD
YES
PANDION
44
SHOAL

4,110

5.25

LF
YES
SWEET BREEZE
45
SHOAL

4,110

5.25

STD
NO
CLIMATE CHANGE
46
SUPER-SHOAL
4,410
4.50
LF
NO
WATERS EDGE
47
SHOAL

4,110

5.25

VBoom
NO
ALERT
48
SHOAL

4,110

5.25

STD
YES
SLEUTH
49
SHOAL

4,110

5.25

STD
NO
RETRIEVER
50
DEEP
3,750
6.5
STD
YES
YARE
51
SUPER-SHOAL
4,410
4.50
STD
NO
OCULUS
52
SUPER-SHOAL
4,410
4.50
LF
NO
BREATHLESS
53
SHOAL

4,110

5.25

STD
NO
BALIU
54
SHOAL

4,110

5.25

STD
NO
BODETTE
55
SHOAL

4,110

5.25

LF
YES
TIME OUT II
56
SHOAL

4,110

5.25

STD
YES
MUSIC
57
SHOAL

4,110

5.25

STD
YES
UNDINE
58
SHOAL

4,110

5.25

LF
AFTERGLOW
59