Chaser 29/Buccaneer 295/US 30/Triton 30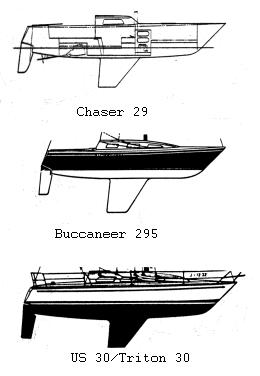 The Chaser 29 was the production version of the
Peterson designed 1974 1/2 Ton World Champion which,
itself, won the 1975 Championship.
The molds were then sold to Bayliner who built the boat
as the Buccaneer 295. They added an ugly house and interior.
Bayliner reincarnated the boat as the US Yachts 30. They
made a slight increase in rig size and freeboard height.
Pearson, in 1984, in a last ditch attempt to freshen their line,
bought the US Yachts molds and produced a few boats as
the Triton 30.
| | | | | | | | | |
| --- | --- | --- | --- | --- | --- | --- | --- | --- |
| | I | J | P | E | Draft | Beam | Displ | LWL |
| Chaser 29 | 38.0 | 12.0 | 34.0 | 9.0 | 5.58 | 10.17 | 7200 | 26.0 |
| Buccaneer 295 | 38.0 | 12.0 | 34.0 | 9.0 | 5.58 | 10.25 | 7000 | 24.5 |
| US 30 / Triton 30 | 38.86 | 12.32 | 34.0 | 9.17 | 5.58 | 10.25 | 7000 | 25.0 |