Medalist 33 Variants
There have been two different, but similar, boats built as Medalist 33s. The original (33-1) was designed by Bill Tripp, the elder, and was built between 1961 and 1965. All were flush decked with ports in the topsides and had attached rudders. The I was 35.58 and the J was 11.83. Some of these were later rebuilt with spade rudders and taller rigs.
In 1966, Le Comte redesigned the boat so that it was slightly longer. One(33-2) was built with an attached rudder and had a trunk cabin.
Between 1966 and 1970 the enlarged hull was built with a spade rudder and a tall rig (33-2). The I was 39.5 and the J was 12.25. The -3 was available with either a flush deck or a trunk cabin.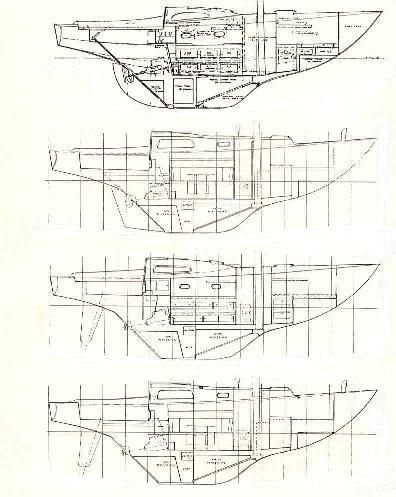 LOA 32.67 Medalist 33-1
LWL 22.50
Draft 5.00
Beam 10.00
Displ 11700
Ballast 3700

LOA 33.00 Medalist 33-2
LWL 24.00
Draft 5.25
Displ 12000
Ballast 4200

LOA 33.00 Medalist 33-3(Flush deck)
LWL 24.00
Draft 5.25
Displ 12000
Ballast 4200

Medalist 33-3(Trunk cabin)